Are you in a season of waiting on God? No matter how hard life gets, we can always find encouragement in knowing that God is working even when we can see Him move.
In the midst of our struggles, it can be easy to forget that God is still in control and that He has a plan for us.
But when we take the time to reflect on His goodness and faithfulness, we can be reminded that He is always at work, even when we don't see it.
When we trust in God and wait on His timing, we can be confident that He is working for our good. His ways are higher than our ways, and He knows what is best for us.
So even when life is tough and we don't know what to do, we can rest assured that God is still at work. He will never leave us or forsake us, and He will always be faithful to His promises.
Grab my list of 30 Bible verse for waiting on God HERE.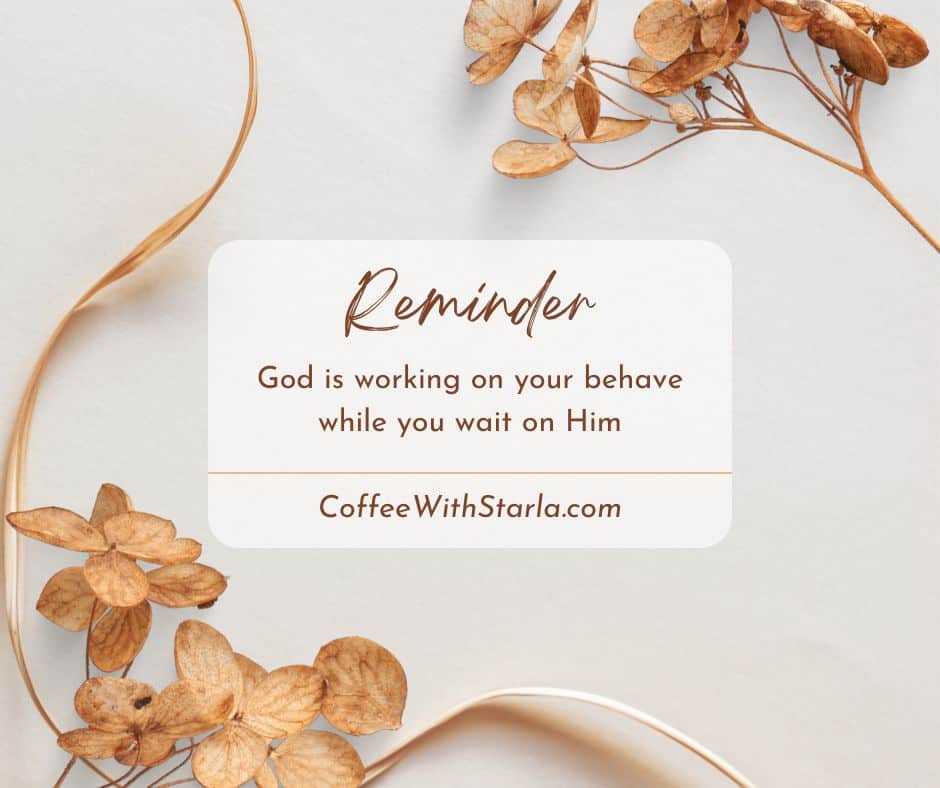 Waiting On God On The Hard Days
I'm reading in my bible this morning, drinking coffee, the sound of rain is hitting the window beside me and it taps on the roof. Stealing a moment away … just God's word, coffee and the rain.
I'm reading today in the book of Numbers. Numbers chapter 9.
Let me share this story of God working while we wait. God had Moses and his crew build a Tabernacle.
Here is the more interesting part…God came down as a cloud and as a fire and hovered over this building.
This chapter tell us that God hovered over the Tabernacle and Tent of Testimony, during the day like a cloud and like a fire by night.
When the cloud and fire lifted it was God's sign that they could move forward in their journey and when the cloud and fire came back down they had to stay encamped and WAIT on God.
Amazing! I bet that was a sight to see. Can you imagine? Standing in awe as this cloud and fire hovered overhead. Can you close your eyes and image the sight? Just wow!
Standing, worshiping and in awe, fully loved, protected, knowing and seeing that God was with you. And He made them wait on Him as they went on their journey.
They were watching and waiting on God.
God wants us to wait on him. Seeking His face, with a repentant heart, waiting in His presence and seeking His will.
What is God asking you to wait on in Him? Do you know what the benefits of waiting on God are?
It can be hard, in those times of waiting on God, to fully rest confidently in the Lord. Staying focused in deep prayer.
God works while we wait. And we should faithfully do the next thing that honors God while we wait for God to work.
We are told in the book of Job that God restored Job after he prayed for his friends. The key word is after. He had to wait till after he prayed for his friends.
So if nothing else pray, pray for not just yourself, but for your friends and family. Seek God's will and not just your desires.
After Job had prayed for his friends, the Lord restored his fortunes and gave him twice as much as he had before.

Job 42:10
We are promised hard seasons, persecution and struggles. We are told to not be surprised when they come. 1 Peter 4:12
But we are also promised that God will always be there for us, as the rains keep coming, no sun in sight and your heart grows weary. God is working while we wait.
Be ever determined to stay focused on who God is and His promises to see you through.
As Job prayed his fortunes were restored double! What a blessing. Double. It's a reminder and challenge to our hearts that during our darkest hour to be praying for others – fully knowing that blessing others is a blessing for ourselves in return.
Get my list of scriptures for waiting on God HERE.
What Does God Do While We Wait
In our waiting God is working. Instead of being anxious about how long it takes God to answer your prayers, why don't you spend that time getting to know more about God and His character?
Why not spend time growing closer to Him?
Waiting is not always easy. I know. I hate waiting. We can become impatient, anxious, and even angry while waiting on God. But what happens when we allow ourselves to fully trust God and wait on Him?
But, what does God do while we wait? He is doing what He does best.
While we wait on God He is working behind the scenes of our lives to perfectly orchestrate His will.
He is preparing you.
He is preparing others.
He is working all things out for your good and His glory.
We may not know what He is doing, but we can safely trust His hand to move when the time is right.
What Does God Tell Us About Waiting
Waiting is difficult. It can be frustrating and confusing. We want to know why God doesn't seem to answer our prayers as quickly as we'd like or why he does things that don't make sense to us.
We wonder if he will ever answer our prayers or if we will ever see the fruit of our labor in this life. We wonder if God is listening to us or if he cares. But God works while we wait.
In our waiting God is working. One of the most important lessons I learned was that every time God gives you a command or promise he also gives you a way to live out that command or experience that promise.
I learned this because every time I found myself waiting on God I would ask myself, "what is God saying to me through this trial?"
What I discovered is that while I am waiting God is inviting me to lean in closer to Him, learn something about Him or myself or both and mature in my faith.
God began to teach me that when I skip this time of waiting and seeking God I miss out. I will never experience the fullness of what God has for me if I don't ask God for what he wants to do in this season of waiting. It's His will we need to seek and not our own desires.
Waiting On God Quotes
Use these waiting on God quotes to encourage yourself during your time of waiting.
"Father, teach us all how to wait."
― Andrew Murray,
Waiting also helps us learn the vital lesson that just because a dream is delayed doesn't mean it is denied. When we continue to hope patiently and place our trust in God and in His schedule — not ours — we begin to gain the type of long-range perspective that allows us to have peaceful souls, even when the storms of life are raging about us. With God, we can wait out the storm and see the sun breaking through the clouds. When we trust in Him, we will eventually see the rainbow and the rebirth of our hopes and dreams.

FaithGateway


"A soul cannot seek close fellowship with God, or attain the abiding consciousness of waiting on Him all the day, without a very honest and entire surrender to all His will."
― Andrew Murray,
Spiritual transformation doesn't take place when we get what we want. It takes place while we're waiting. It is forged in us while we're waiting, hoping, and trusting, even though we have yet to receive what we long for. Spiritual transformation happens in the waiting room.

FaithGateway
Benefits of Waiting on God
Waiting on God renews our mind, physical, spiritual and emotional being.
Waiting on God helps us to Focus on the purpose and direction for our life according to God's will.
Waiting on God creates humility. It helps smooth out our rough edges that need to be dealt with.
Waiting on God can build hope and anticipation.
Waiting on God stirs up our passion, desire and intimacy with Him.
I believe God is just as interested in the process, in the time of waiting and in the journey as He is in the destination.
If it wasn't so, all the biblical stories and passages would only include the happy parts and not the the ugliness in the times of waiting.
We may not always understand why we have to wait, but the good news is that God never asks us to wait without Him.
Instead of hating the time of wait, maybe we could learn to appreciate it for what it can create in our lives.
Sure, we can feel the very real hurt of longing, but we can also turn that into praise while we wait. We have no idea of the burdens or blessings to come, but while we wait, God is at work.
This is the hope in waiting – our God is not inactive, but always working out His perfect plans in an imperfect world. We can trust in God, even when the suffering is long and hard.
God uses the time of wait to change us, prepare us, mold us and empower us for the next step in our journey.